---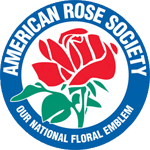 Proudly affiliated
with the
American Rose Society

---

Disclaimer:
While the advice and information in this web site is believed to be true and accurate, neither the authors, officers, nor members can accept any legal responsibility for any errors or omissions that may have been made. BGRS makes no warranty, expressed or implied with respect to the material contained herein.
Membership in Bowling Green Rose Society
All persons who are in any way interested in growing roses shall be eligible for membership. Currently the local dues are $15 per person.
Meetings are held the second Sunday afternoon of each month at the Warren County Extension Office except for January and summer meetings which are normally held at member gardens. See Meetings for additional dates.
Click here for membership application in pdf format.
You may contact Mary Ann Hext, Publications Chair, at 270-781-8171 or e-mail for additional information.

We encourage all members to also join the American Rose Society. Several benefits of becoming an ARS member are:
Five issues of American Rose magazine, a $50 value. The only magazine devoted exclusively to roses and rose culture, these bi-monthly, 84-page issues feature informative articles and beautiful photography for beginners and experienced rose growers alike. View a free issue online at www.rose.org!
​
One issue of American Rose Annual, a $20 value. The November/December issue of American Rose features 128 pages of the latest in rose research, growing techniques, tips and more, from writers across the country and abroad.
​
The Handbook for Selecting Roses, a $10 value. Every year, rosarians from across the country participate in rating the newest roses. From the thousands of reports, we tabulate the ratings and publish the results in this guide.
​
​
​
​
​
Free or reduced garden admissions, a $25 value after just three uses. With the Reciprocal Garden Admission program, members enjoy free or reduced admission to and discounts at hundreds of gardens, conservatories, and arboreta nationwide. Click here to view a list of gardens.
​
For information, please click here.